Press/ Bindery Material Handler- LSC Communications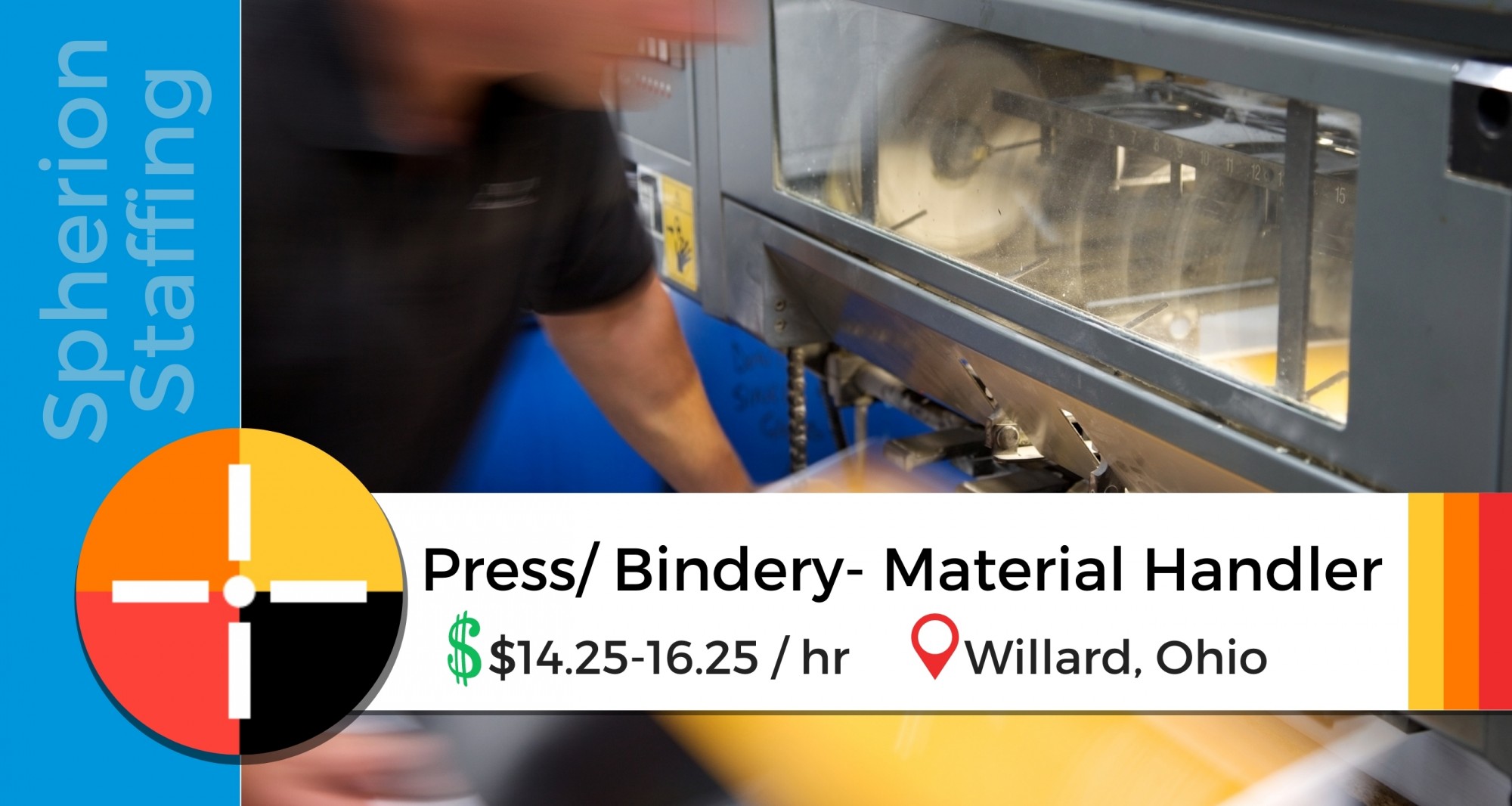 Press/Bindery Material Handler
We have fantastic opportunities at LSC Communications for Press / Bindery Material Handlers. There is a new starting pay of $14.25-$16.25/ hr. depending on the shift.
Location
Willard, OH
About The Opening
At LSC Communications, shifts rotate every 6 weeks. Great for work-life balance and an increase in hourly pay when on the off shifts.
** Temp-to-permeant employees are not required to rotate shifts but will need to rotate to be hired in for permeant placement.
1st Shift: 7:00am – 3:00pm
2nd Shift: 3:00pm-11:00pm
3rd Shift: 11:00pm-7:00am
Overtime starts at 38 hours! In some departments, 37.5 hours!
Job Duties:
This role will be placing and pulling paper stock throughout the warehouse, a basic understanding of how warehouses operate is very helpful for this role. You will be stocking, moving, arranging, unloading, counting and rotating items on/off the printing press equipment in accordance with operating instructions or under guidance of a press operator or supervisor.
You will be responsible to complete appropriate forms relating to stock description, quantity, unit of issue, and the labeling requirements for incoming and outgoing materials.
The print-manufacturing industry is over 150 years full of history. Books and magazines are still being created and printed, the desire for a tangible item you can hold, and feel is more important than ever in our over immersive digital world. Continual growth and stability as the investment of new presses have just been added to the Willard Facility.
About LSC Communications:
LSC Communications is a $3.5B company with over 20,000 employees worldwide serving the needs of Publishers, Merchandisers and Retailers with innovative product, service and technology offerings that combine print, e-services, warehousing, fulfillment and supply chain management to increase speed to market, reduce costs, and improve efficiencies. LSC Communications was established in 2016 as a new company built upon a 150-year-old print manufacturing tradition. By tapping into our wealth of industry knowledge, we are at the forefront of providing the best and most innovative solutions for storytellers around the world.
Employment Type
Full Time, Long Term, Temp-to-Permanent
Experience Level
Entry Level
Requirements
Strong attention to detail
Enjoys working in a team environment
Willing to take directions and open to learn new jobs and duties assigned
Pride yourself on practicing great attendance
Past Press /Bindery experience is helpful, but not necessary
Employees are required to wear steel toed shoes
No HS diploma or GED required
Benefits:
Medical, dental, vision, and life insurance through Spherion
Employee of the Month, gifts for National Staffing Week
Spherion Mid Ohio is an EEO/AA employer.
Interested in this great opportunity?
Click the Apply Now button below and select Willard as your office of interest or the Call Us button below for more details.