Receiver / General Labor- Carton Services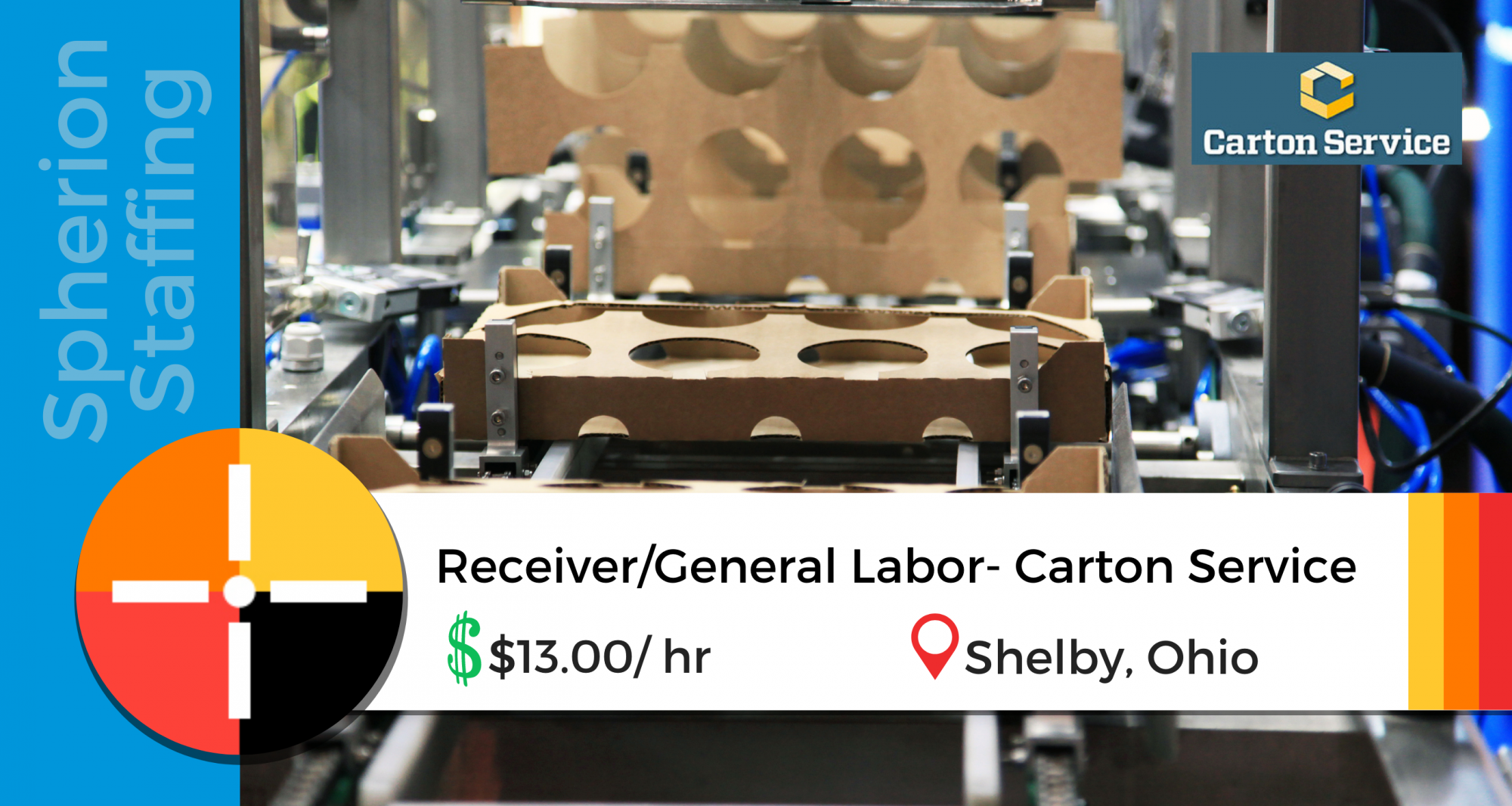 Receiver/ General labor positions available at Carton Services in Shelby, Ohio. This stable and long-standing packaging manufacturer is now offering an INCREASED PAY rate!
Location
Shelby, OH
About The Opening
Join a strong, leading, and growing company offering stable and secure job opportunities with the ability to be permanently placed.
Currently operating 56 hours per week. That's 16 overtime hours each week paid at time & ½ or at $19.50/hr – Sunday's are optional overtime, so there is a chance for even more $$ for those interested.
Monday-Thursdays: 10 hours workdays
Fri & Sat: 8 hour workday
Shifts Available:
1st Shift: Mon-Thur (6am - 4pm) Fri-Sat (7am-3pm)
2nd Shift: Mon-Thur (4pm- 2am) Fri-Sat (3pm-11pm)

NEW Pay Rate = $13.00/hr
A typical shift in this team environment will include feeding the machines and keeping them running. Picking excess cardboard off of product before feeding the machines. Checking and tracking glued samples, creating and labeling case labels. Preforming quality check and unjamming the machine as needed. This position will be counting and recording product on the computer throughout the shift.
Benefits:
- Medical, dental, vision insurance through Spherion
- Tuition program
- Opportunity for permanent hire
Employment Type
Full Time, Temp-to-Permanent
Experience Level
Entry Level
Requirements
Must Have:
- Flexibility for either 1st or 2nd shift
- Ability to lift up to 35lbs frequently
- Ability to stand/walk for long periods of time
- Ability to read and understand directions
Spherion Mid Ohio is an EEO/AA employer.
Interested in this great opportunity?
Click the Apply Now button below and select Mansfield as your office of interest or the Call Us button below for more details.