Warehouse Associate / Pallet Builders - Campbell's Snacks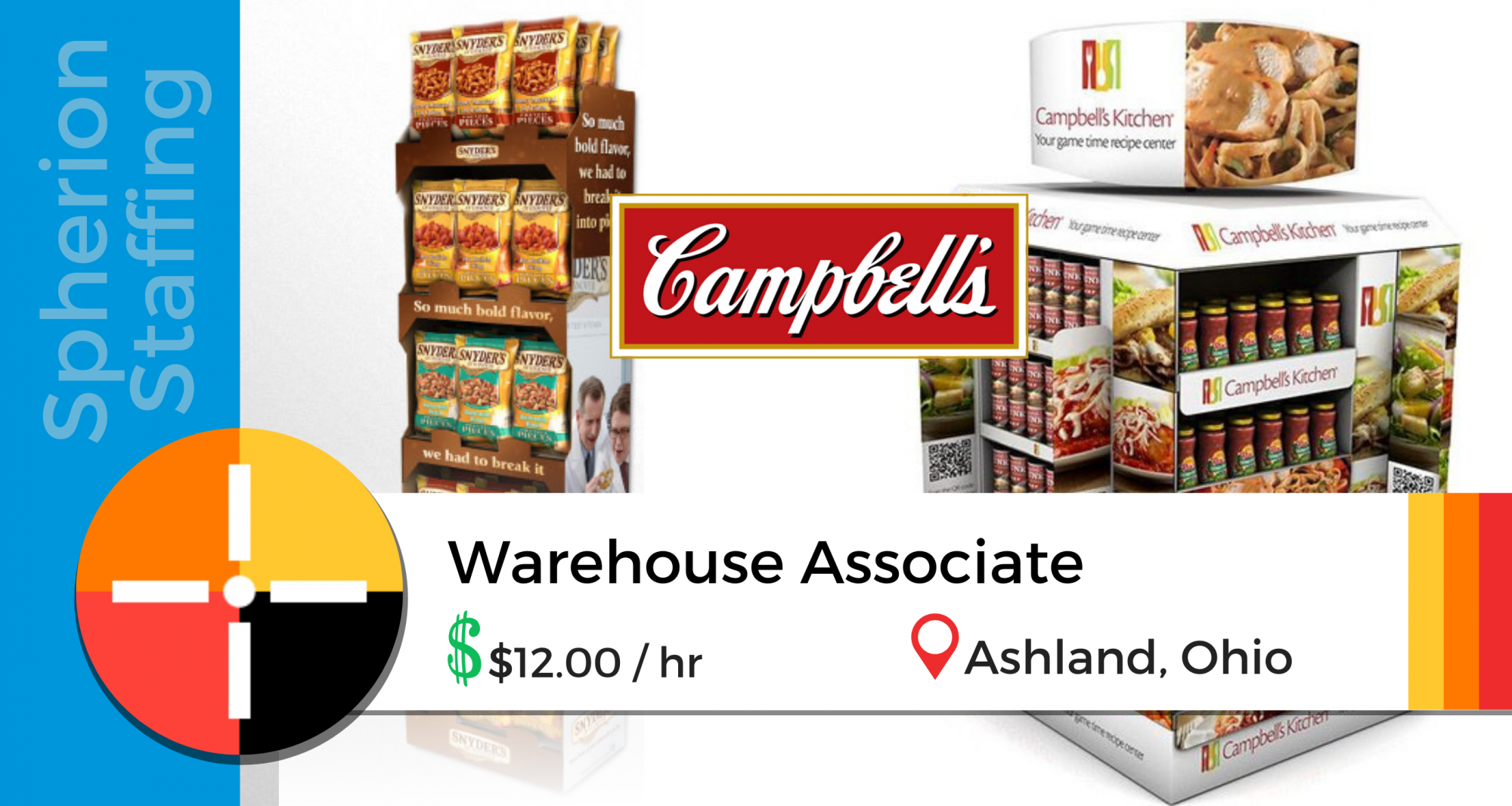 We are looking to fill a limited number of openings for Pallet/ Display builders at Campbells Snacks. These positions are for a long Long-Term Project on first shift.
Location
Ashland, OH
About The Opening
If you are reliable, motivated and a team-oriented individual, this is the perfect environment for you. It's an extra plus if you care about the products (delicious snacks enjoyed around the nation) and understand the importance of food safety.
About the Opening:
Work in a team driven environment to assemble cardboard displays for grocery stores. Position includes building the cardboard display, removing product from cases and putting into the displays. Once the displays are completed, the displays are placed on pallets and shrink wrapped for shipment.
Located in the bight and clean warehouse, this is a fun team environment that is great for individuals who enjoy working with their hands.
Did we mention, you get 2 free boxes of cookies every week?!
1st shift- 7am-3pm
Monday- Friday- some Saturday overtime when needed.
Benefits:
- Medical, dental, vision, and life insurance through Spherion
- Employee of the Month, gifts for National Staffing Week
Employment Type
Full Time, Long Term
Experience Level
Entry Level
Requirements
Requirements:
- Employees must wear slip resistant shoes, long pants and cannot have any piercings or jewelry.
- Must be at least 18 years old
- Ability to work in a fast-paced environment
Spherion Mid Ohio is an EEO/AA employer.
Interested in this great opportunity?
Click the Apply Now button below and select Ashland as your office of interest or the Call Us button below for more details!