Assembler- Ashland Conveyor: New Pay!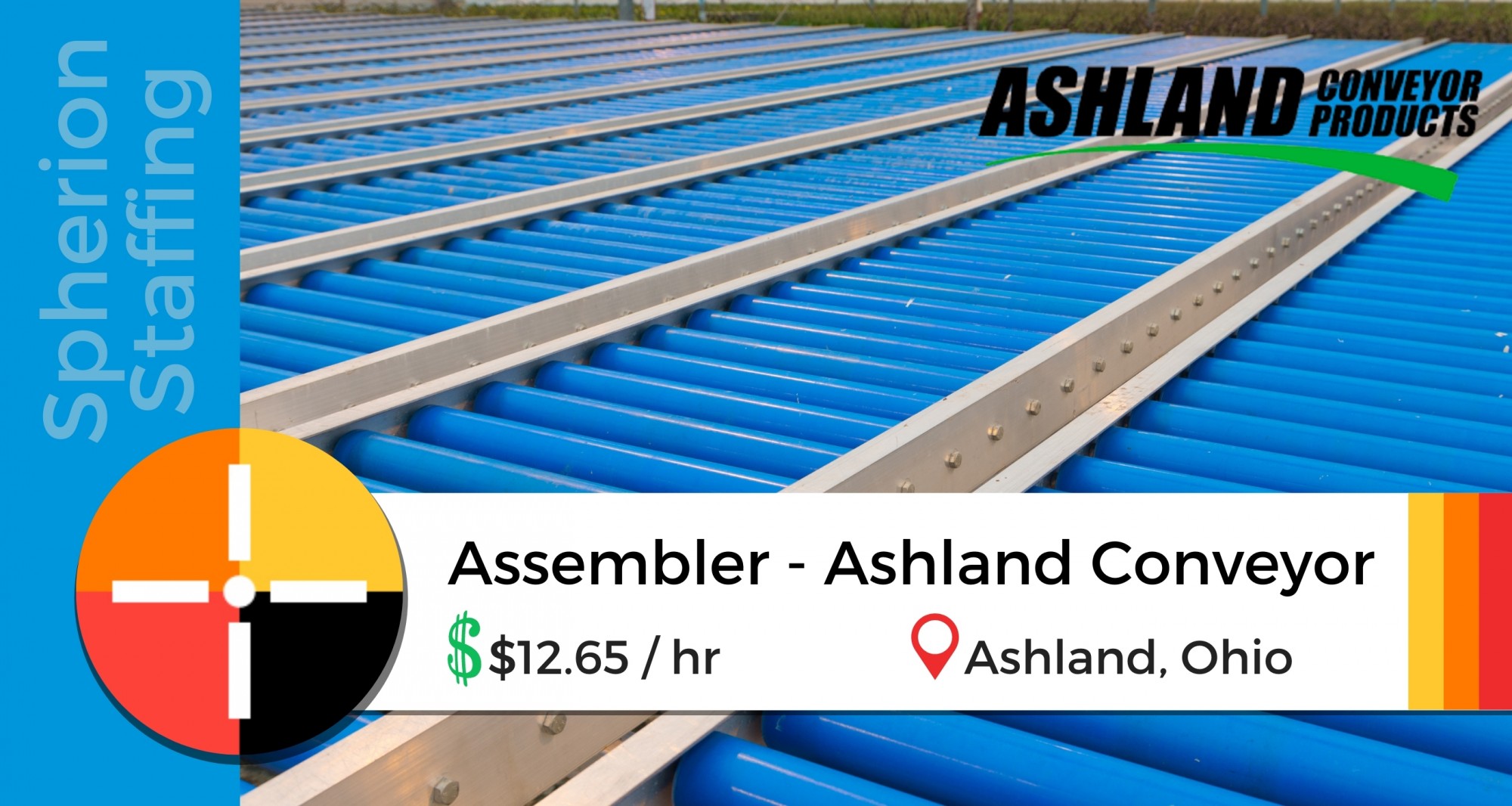 Apply today and work for a wonderful company in Ashland!
Ashland Conveyor produces small and large conveyor belts and rollers…from belts you see at the grocery store to huge industrial belts and rollers!
Location
Ashland, OH
About The Opening
Openings for Assemblers on 1st Shift!
Hours are 6am – 2:30pm, Monday - Friday

NEW Pay rate: $12.65/hr - after permanent-placement hire, pay is raised to $13.65! Employees are eligible for permanent -placement after only 30 days!

Responsibilities include Assembling roller conveyor systems, using hand tools to assemble parts and completing quality checks as needed.
Mission of Ashland Conveyor:
To manufacture valued products and services for our customers
To provide a safe, secure, and fulfilling environment for our workers
To be a worthy corporate citizen
To earn a fair return for our shareholders
To maintain high moral and ethical standards in all our dealings
Benefits:
Health insurance package through Spherion (starting day one)
Opportunity for permanent hire after only 90 days
Pay increase to $13.65 at 30 days then $14.40 at 90 days!!
Quarterly attendance bonuses!
Amazing Benefits once Full time
Option for a matching 401k plan!
Employment Type
Full Time, Long Term, Short Term / Seasonal
Experience Level
Entry Level
Requirements
Must Have:
- Ability to work as a team in a fast paced environment
- Must posses good attention to detail and basic math skills
- Some manufacturing experience is a plus!

Position does not require diploma
Spherion Mid Ohio is an EEO/AA employer.

Interested in this great opportunity?
Click the Apply Now button below and select Mansfield as your office of interest or the Call Us button below for more details!