Assistant Machine Operator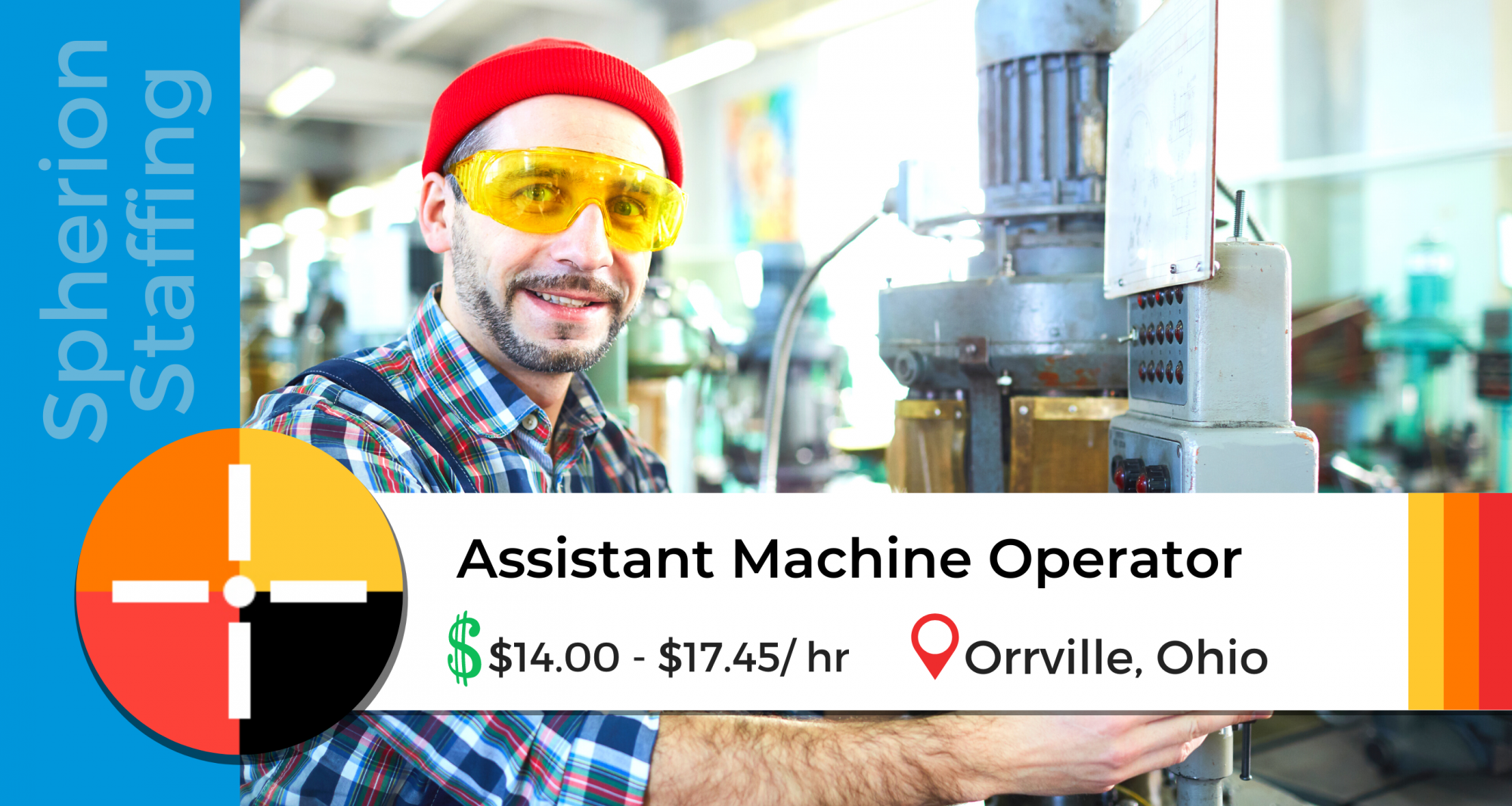 Our client who is a world market and technology leader in steel wire transformation and coating technologies is hiring for an assistant machine operators.
Location
Orrville, OH
About The Opening
This is a temp-to-hire opportunity.
Numerous shift blocks available to select that fit your schedule!

Pay Rate= $14.00 - $17.45/hr
A typical day includes assuring the safe operation of mill. Moving materials by hand, jib crane and/or forklift truck. Will be responsible to inspect raw material for quality standards, keep work area clean and provide a safe environment for themselves and team-members.
Additional Responsibilities:
Butt weld ends of coils together to form continuous feed.
Use hand tools to grind burrs ensuring steel cord can be processed through machine successfully.
Build tooling for upcoming jobs and maintain tooling effectively throughout machine runs.
Monitor mill to detect issues with tooling and/or material.
Thread workpiece between rolls of machine manually or by jogging the mill power unit.
Benefits:
- Medical, dental, and vision insurance (Starting day ONE through Spherion)
- Referral bonuses, employee gifts and incentives through Spherion
Employment Type
Full Time, Long Term, Temp-to-Permanent
Experience Level
1-2 Years Experience
Requirements
Must Have:
Six (6) months to one (1) year of manufacturing experience is preferred.
Ability to read and interpret safety rules, operating & maintenance instructions, & procedure manuals.
Ability to write routine reports.
Ability to speak effectively before groups of employees of the organization
Ability to understand mathematical probability and statistical inference
Apply fundamental principles of plane and solid geometry and trigonometry
Ability to use concepts such as fractions, percentages, ratios, and proportions to resolve practical situations.
Ability to work in warm-hot temperatures and stand for long periods of time
Ability to lift up to 60lbs
Spherion offers competitive salaries and benefits for temporary employees. So apply now to learn more about our unique, career building opportunities – you won't be sorry!
Spherion Mid Ohio is an EEO/AA employer.
Interested in this great opportunity?
Click the Apply Now button and select Orrville as your office of interest or click the Call Us button below for more details!