Distribution Order Processor - MTD Shelby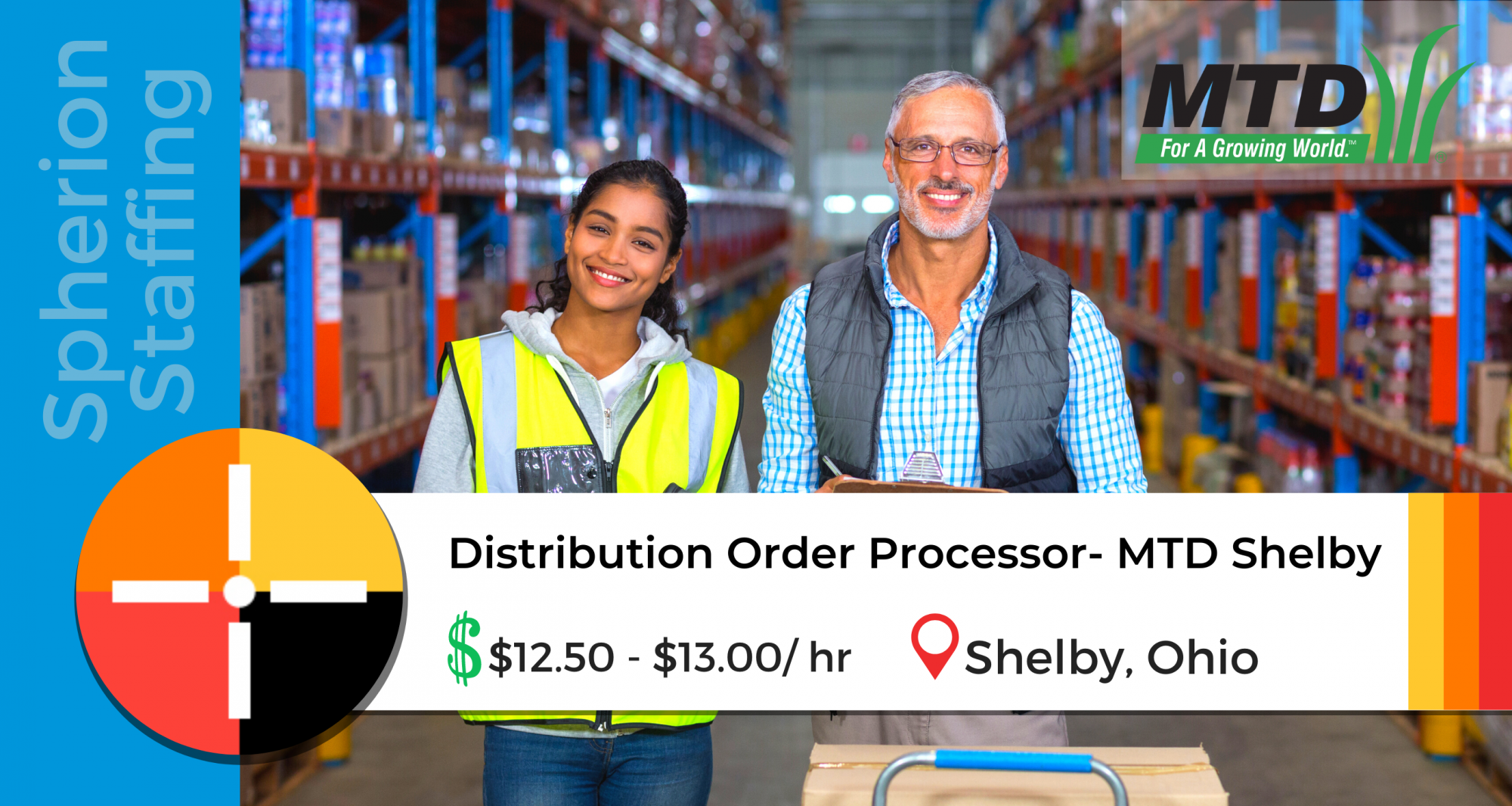 MTD in Shelby has openings on 1st and 2nd shift for Distribution Order Processor
Location
Shelby, OH
About The Opening
This distribution center in Shelby, Ohio also offers the possibility of permanent placement and has maintained an essential business providing replacement parts for brand names in lawn care equipment across the globe.

1st Shift (6:00am – 2:30pm)
2nd Shift (2:30pm – 11:00pm)

Monday - Friday (some OT possible on Saturdays)

Pay Rate = $12.50/hr - $13.00/hr
A typical day as a Distribution Order Processor will include accurately picking/packing the correct quantity of parts/items needed per order. This position is responsible to handle packages in a safe and secure manner. Read and follow shipping labels and secure loads following guidelines. Responsible for daily 6S activities including- housekeeping, organizing and safe work area, completing paperwork and checking sheets.
Benefits:
- Medical, dental, vision insurance through Spherion (starting day ONE)
- Referral bonuses and employee programs
- Permanent hire opportunities with pay increases and benefits
Employment Type
Full Time, Short Term / Seasonal, Temp-to-Permanent
Experience Level
Entry Level
Requirements
Must have:
Ability to work in a fast paced, detail-oriented environment
Ability to verify quality of product
Ability to use all required tools/equipment in the area
Ability to lift 40 pounds repeatedly
Basic math skills
Ability to follow written and verbal instructions
Ability to stand/ walk for the duration of the shift
Steel toed shoes required
Spherion Mid Ohio is an EEO/AA employer.

Interested in this great opportunity?
Click the Apply Now button below and select Mansfield as your office of interest or the Call Us button below for more details!