General Utility Forklift Operator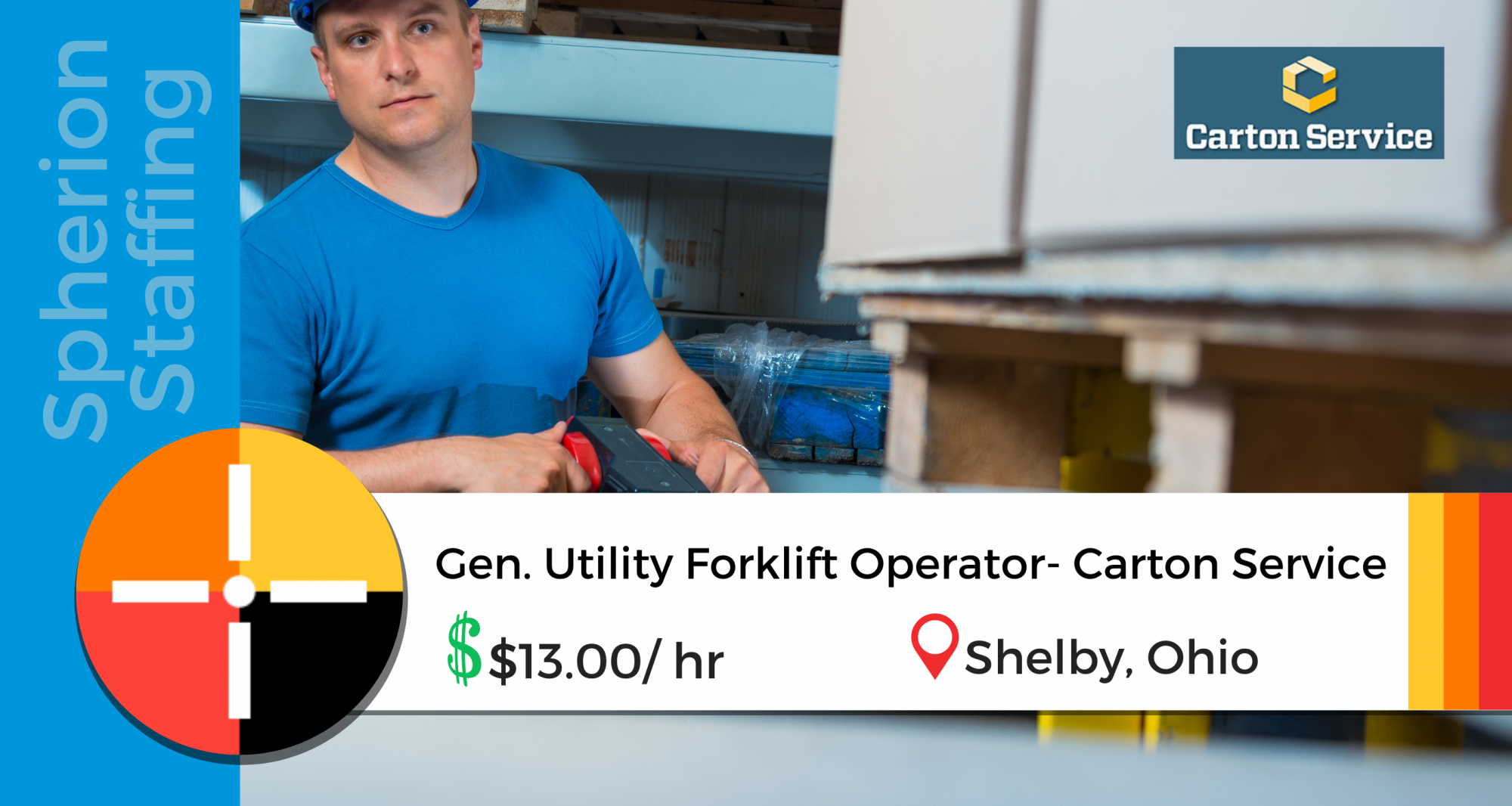 Carton Service in Shelby is looking for a General Utility Forklift operator to join their team. Openings on first and second shifts for these temp-to-hire positions. Carton Service produces cardboard and paperboard boxes and cartons.
Location
Shelby, OH
About The Opening
This is a great opportunity for individuals looking to make steady income. Work weeks are 56 hours- that's 16 hours weekly at a pay rate of $19.50/hr!
Before taxes/ deductions- employees would make $832 per week or $3,328 per month!
Train on 1st – move to second once trained

1st shift:
Monday- Thursday 6:00am – 4:00pm
Friday-Sat. 7:00am – 3:00pm
2nd Shift:
Mon.-Thur. 4:00pm – 2:00am
Fri.-Sat. 3:00pm – 11:00am
ABOUT THE OPENING:
Pay rate: $13.00/hr overtime $19.50/hr

A typical day this role will be responsible for moving materials throughout the facility, supplying various departments with product so the lines can continue to run

BENEFITS:
- Health insurance package through Spherion (starting day one)
- Opportunity for permanent hire with full-time benefits and vacation packages
- Clean, temperature-controlled work environment
Employment Type
Full Time, Long Term, Temp-to-Permanent
Experience Level
1-2 Years Experience
Requirements
REQUIREMENTS:
Must be able to lift up to 35 lbs
Must be able to operate a powered industrial truck safely and efficiently
Must be motivated and able to work without constant direction and supervision
Prior recent forklift experience – at least 1 year
Able to work independently
Ability to multi-task
NO smoking at all while at work
NO piercings, jewelry allowed on the production floor
This position does NOT require a GED or HS diploma
Spherion Mid Ohio is an EEO/AA employer.
Interested in this great opportunity?
Click the Apply Now button below and select Mansfield as your office of interest or the Call Us button below for more details.