Packaging Associate - Pepperidge Farm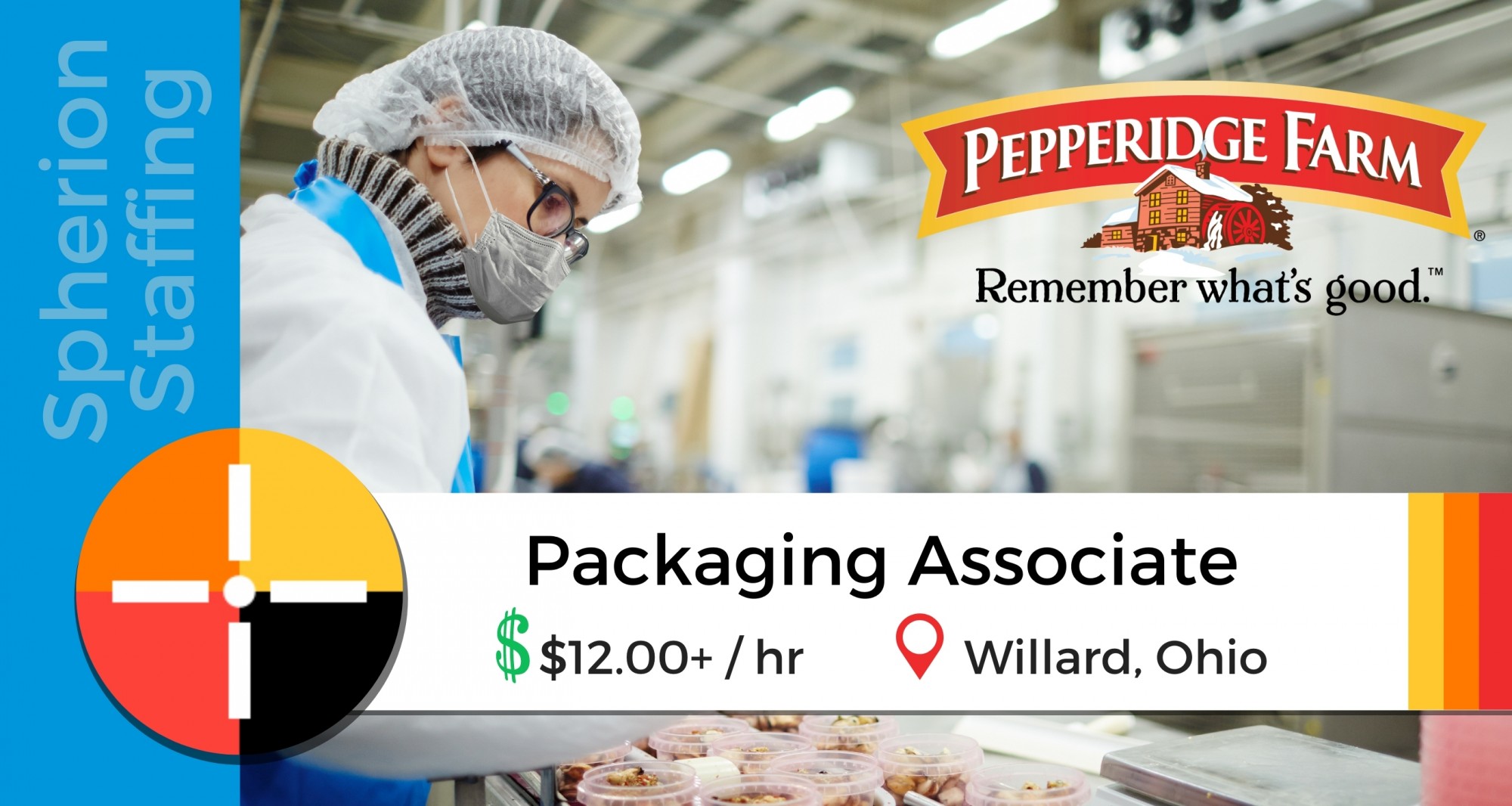 We have essential job opportunities at Pepperidge Farm - Flex Pack!
Location
Willard, OH
About The Opening
Long-term Packager positions now have an INCREASED starting pay rate, new pay raise scale, AND holiday pay!
These jobs are available in a clean, bright, comfortable facility in Willard, Ohio where employees can feel safe and secure with a stable job.
1st and 2nd Shift Options Available
Full-time and Part-time opportunities!
NEW STARTING Pay Rate = $12.00/hr
Over-time is required when needed
A typical day as a Packager will include pulling and packaging products from the conveyor belt while making quick inspections. Packagers will make, open, and break down boxes and build displays.
Current employees enjoy the clean, friendly, team environment. They enjoy rotating positions throughout their shifts to enjoy different roles.
Flexible schedule to request days off, trade days, part-time or full-time, etc.
Benefits:
- NEW pay raise opportunities after 30, 60, and 120 days worked!
- Holiday pay after 90 days worked
- Company store privileges
- Medical, dental, and vision insurance (day one through Spherion)
- Referral bonuses
Employment Type
Full Time, Part Time, Temp-to-Permanent
Experience Level
Entry Level
Requirements
Must Have:
- Ability to lift up to 50 pounds (40lbs over head)
- Ability to stand for long periods of time and make consistent arm and wrist movements
- Ability to work in a fast-paced environment and do repetitive work
Spherion Mid Ohio is an EEO/AA employer.
Interested in this great opportunity?
Click the Apply Now button below and select Pepperidge Farm as your office of interest or the Call Us button below for more detail.