Warehouse Supervisor- Campbells Snacks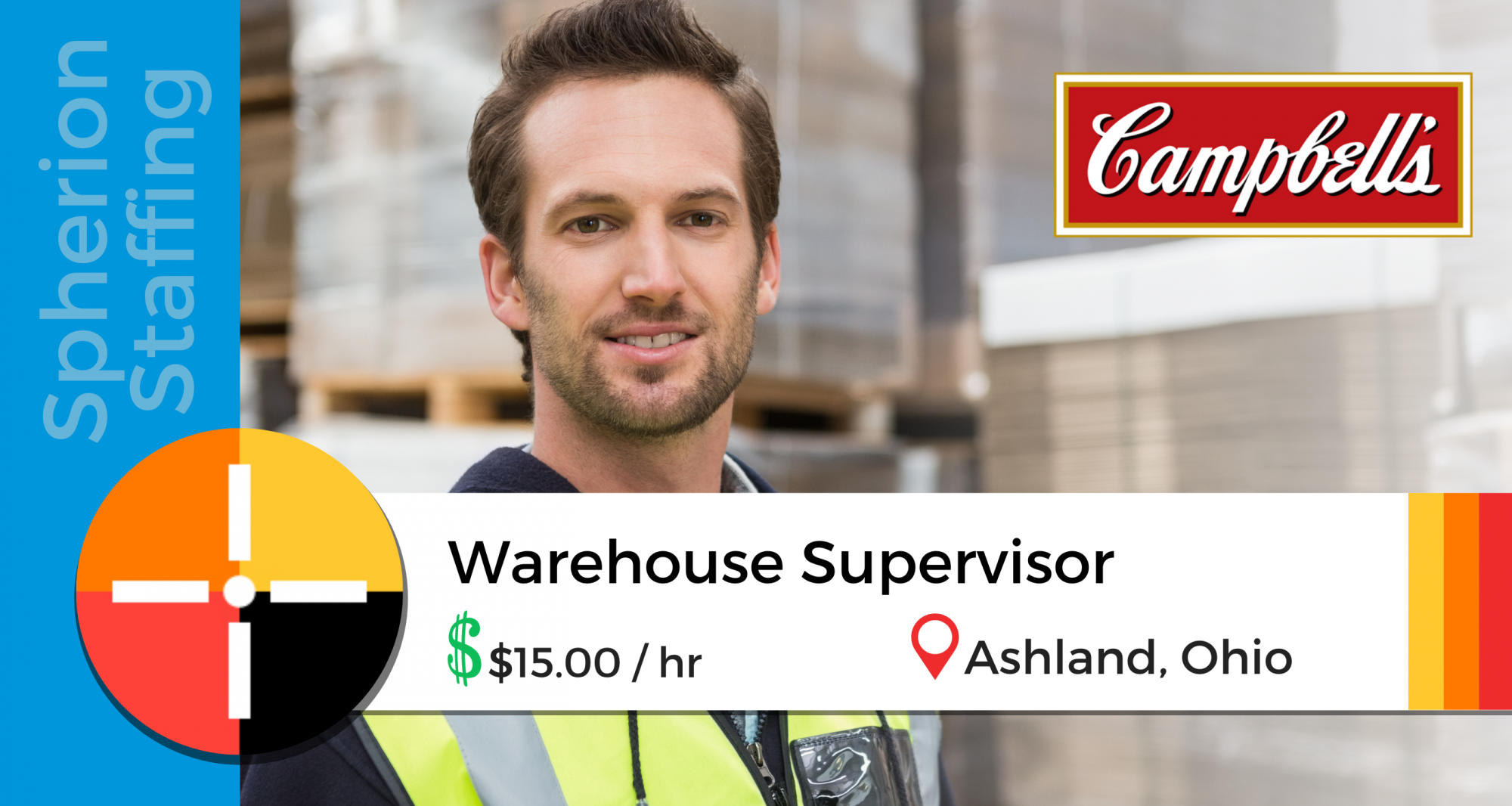 We are looking to fill an opening for warehouse supervisor at Campbells Snack in Ashland.
Location
Ashland, OH
About The Opening
This is a 1st shift opening (7:00am – 3:00pm)
Overtime and longer shifts may be required
Pay: $15.00 / hr
About the Opening:
This position is a working coordinator who works side by side with the team and sets the pace while addressing immediate needs.
The role is designed to communicate roadblocks and immediate needs of the team to key Campbells personnel.
The role will be responsible to coordinate the required checks and reporting of the daily production.
Promote an environment where safety is top priority and to follow all PPE and COVID mandates.
Complete the end of shift recap.
Located in the bight and clean warehouse, this is a fun team environment.
Did we mention, you get 2 free boxes of cookies every week?! This is a great position to be able to grow the individuals supervisory skills while also working alongside a small team of dedicated employees.
Benefits:
Medical, dental, vision, and life insurance through Spherion
Employee of the Month, gifts for National Staffing Week
Employment Type
Full Time, Long Term
Experience Level
1-2 Years Experience
Requirements
Requirements:
- The successful candidate will have proven warehouse and supervisor skills.
- Be a reliable, motivated and team-oriented associate that cares about the products and understands the importance of food safety.
-Must be able to work in a fast paced environment while successfully leading the team by example and ensuring all safety and production needs are met.
- Position requires slip resistant shoes, long pants and employees cannot have any piercings or jewelry on the line.
Spherion Mid Ohio is an EEO/AA employer.
Interested in this great opportunity?
Click the Apply Now button below and select Ashland as your office of interest or the Call Us button below for more details!